The Ultimate Guide to Bathing Your Dog
Bathing your dog is a great way to spend quality time with your furry friends and gives you a chance to bond with them. Some dogs may be hesitant to be bathed, therefore knowing how to properly and safely bathe your dog will help to make it an enjoyable experience for you both. From selecting the right dog grooming products for fur types and canine skin conditions to learning the correct techniques to wash and dry, our pet experts are here to cover all aspects of bath time in the ultimate guide to bathing your dog. 
Keep reading for the answers to our most frequently asked questions about cleaning your dog and discover dog grooming products to help maintain healthy fur.
How do you properly bathe a dog?
Bathing your dog is a pretty straightforward task, however, it can be difficult depending on your dog's size, temperament and whether or not they like being bathed. While some dogs may love a warm bath, others will do anything to avoid being in the tub. No matter how your dog feels about the bath, following these basic steps will put you on the right track for a successful bath time with your pup.
Gather all of your bathing supplies

- Before you get started, having all of your washing supplies ready and nearby is essential for having a straightforward bathing experience. Make sure you have a brush, dog shampoo and towel near the bath or sink where you will be washing your dog.
Brush your dog

- Brushing your dog before bathing will help to remove any loose hair and dirt before the bath and is also a good opportunity to check for fleas.
Test the water temperature and wet your dog's body

-  Before bathing your dog it's important to check that the water temperature is at a suitable temperature - not too hot and not too cold. Once at a suitable temperature, gently lower your dog into the bath or sink and wet their body thoroughly.
Rub in dog shampoo, rinse and repeat as necessary

- Once your dog is thoroughly soaked through it's time to rub in the dog shampoo. Make sure you scrub your dog's whole body from head to toe, paying special attention to their tail area, face and paws where there is the most dirt build-up. We recommend using a washcloth to gently wash your dog's face without getting soap in their eyes, ears or mouth. Rinse and repeat this step until all dirt is removed. Make sure you remove all traces of soap from your dog's fur as this can be irritating to their skin and can be harmful if ingested from licking.
Dry your dog thoroughly

- After a thorough cleansing, squeeze out any excess water from your dog's fur and remove your dog from the water. Cover your dog with a towel and dry them thoroughly. Your dog will likely help you out with this step, by doing a big shake to remove excess water. You can choose to use a dog hair dryer to help out with this step, however, they may be scary to some dogs and can also get too hot, causing your dog's skin to dry out. 
How often should you wash a dog?
The frequency of how often you should wash your dog will depend on various factors such as environment, lifestyle and breed. Most owners will choose to bathe their dogs if they smell bad or have an excess amount of dirt on their coats. Remember that bathing your dog too frequently can dry out your dog's skin and remove natural oils that are healthy for their skin and coat. Generally, most dogs will be fine to have a bath once per month or once every few months. 
If your dog is a fan of the great outdoors and tends to roll around in mud or jump into the nearest body of water, you will need to bathe your dog more frequently. The breed of your dog will also dictate how often you should bathe them - breeds with particularly oily coats may need to be washed more often. Similarly, breeds with wrinkly skin may need daily washing to get rid of any build-up of dirt between skin rolls to avoid itchy skin and prevent infection. 
Should I brush before or after bathing my dog?
Ideally, you should brush your dog's fur before bathing as it can become difficult to remove any mats or tangles when their fur is wet. Brushing before bathing can also help remove excess dirt and loose hair which makes the cleaning process much easier, and is also a great way to check for the presence of fleas. There are many great dog brushes available here at Direct4Pet suitable for brushing all types of dog fur.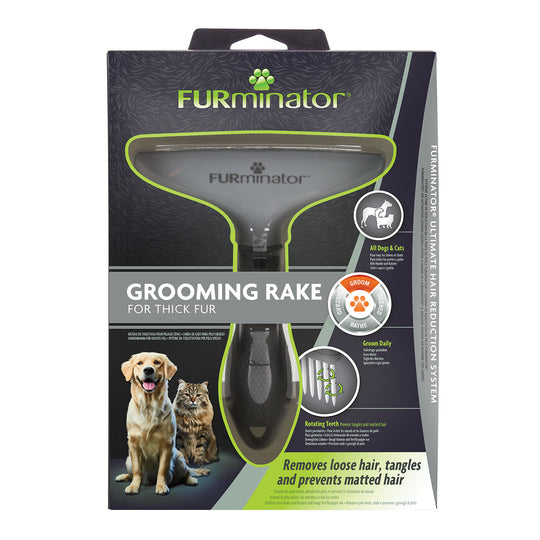 JW Gripsoft Dog Grooming Supplies Bristle Brush £4.99 and Furminator Grooming Rake For Cats And Dogs £12.99 
The JW® GripSoft® Bristle Brush is the perfect tool for a smooth and shiny coat. The soft bristles of this brush help to gently remove dirt and loose hair while smoothing out your dog's fur, distributing healthy natural oils. This dog grooming brush is great for use on your dog's sensitive areas around their face and paws, and the non-slip ergonomic handle makes grooming a more comfortable experience for you. 
For a more abrasive grooming brush that effectively removes loose hair, and tangles to prevent matted hair, the Furminator Grooming Rake is ideal. Featuring rotating metal teeth, this grooming brush is designed to tackle thick fur, helping to remove debris and smooth out their coat before bathing to make washing easier.
How do I know when my dog needs a bath?
Although bathing your dog semi-frequently is necessary for keeping them clean and free from disease, it's important to avoid over-bathing. If you're unsure whether or not your dog needs a bath, look out for the following signs that will indicate that bathing is necessary:
A strong odour 

Excessive shedding of fur or matting fur

Skin irritation

Scratching or licking more than usual

Dirt or debris on their fur.
When can I bathe my puppy?
If you're the proud owner of a new puppy, you mustn't bathe your puppy before 8 weeks old. Before this age, your puppy is not able to control their body temperature, meaning that if they were to have a bath they would not be able to warm back up again afterwards, causing them to become ill. If your puppy gets dirty, you can spot-clean them, without submerging them in water - simply run a wet washcloth under warm water and use this to gently remove any dirt.
Can I use human soap on my dog?
No, human soap is not safe for use on dogs. A human's skin and a dog's skin are drastically different in their structure - dogs have more hair follicles than humans and their skin has a third of the cell layers of humans and is replaced more frequently. This means that your dog's skin is more prone to injury and irritation when in contact with substances such as human soap and shampoo - if used on your dog's skin you may notice dryness, flaking skin and redness due to the change in your dog's skin PH. There are many pet-friendly dog shampoos and conditioners available at Direct4Pet that can help you with your dog bathing endeavours.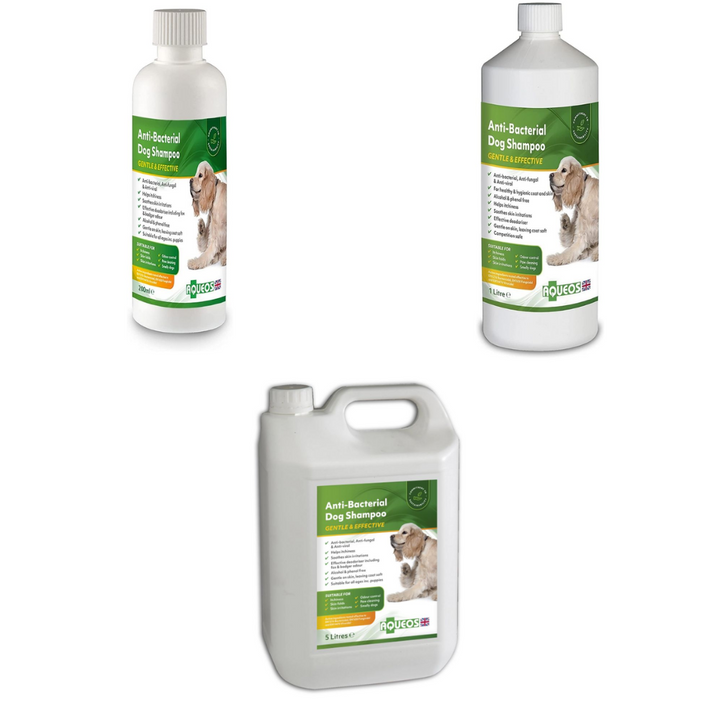 Pet Head Ditch The Dirt £10.49 and Aqueos Anti-Bacterial Dog Shampoo £9.99  
Pet Head are one of the most popular dog shampoos for deodorising and cleaning your dog. Using natural charcoal powder, orange peel oil and aloe vera, this Pet Head Ditch The Dirt shampoo, conditioner and spray set helps to powerfully neutralize odours and get rid of dirt whilst keeping your dog's PH balanced. Safe for both you and your dog, all Pet Head products are free from parabens and artificial dyes and are proudly vegan and cruelty-free. Whether your dog has sensitive skin, dry skin or any other grooming requirements for their coat, browse the full range of Pet Head products to find the right dog shampoo and conditioner for your pup.
For dogs with sensitive skin or any skin issues, Aqueos offer a range of anti-bacterial dog shampoos that are formulated to disinfect skin irritations and clean your dog's coat. This anti-microbial and anti-itch deodorising dog formula is versatile and effective at protecting against harmful contagions like Parvovirus. Proven to protect against 99.99% of bacteria and fungi within 30 seconds of use, whilst leaving your coat feeling soft and eliminating bad odours, this Aqueos Anti-Bacterial Dog Shampoo is suitable for all dog breeds and skin types.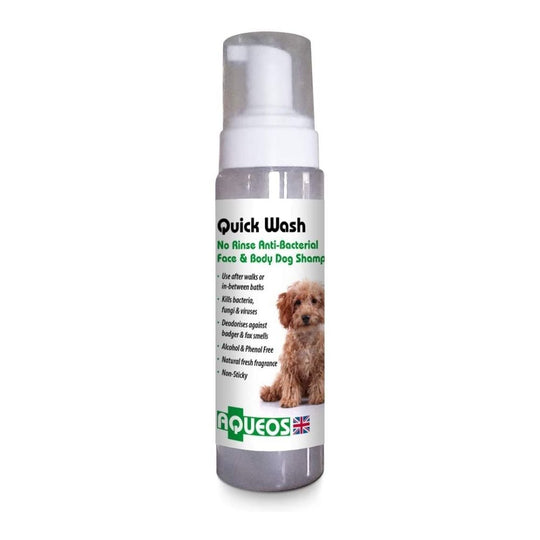 Beaphar Dog Flea Shampoo £6.69 and Aqueos Quick Wash Anti-Bacterial No Rinse Dog Shampoo £11.09 
If you're bathing your dog to eradicate or protect against fleas, the Beaphar Dog Flea Shampoo helps to kill fleas whilst leaving a clean, shiny coat. Formulated using pyrethrum plant extracts, this dog shampoo is suitable for use from 12 weeks of age to effectively kill fleas and help prevent future infestation whilst keeping your dog's coat clean.
For dogs that are prone to getting dirty frequently, whether from eating or walking, the Aqueos Quick Wash Anti-Bacterial No Rinse Dog Shampoo is ideal for keeping your dog clean in between washes. This no-rinse shampoo is anti-viral, anti-bacterial and anti-fungal and is great for use between baths or full grooms and after contact with other dogs to disinfect your dog's coat without bathing. This no-rinse shampoo is also great for keeping dogs that don't like bathing clean, offering a deodorising shampoo with a natural, fresh fragrance that is non-sticky and easy to use. Simply massage it into your dog's coat and towel off.
Keep your dog fresh and clean with the help of Direct4Pet
If you're looking to learn how to properly wash your new dog or trying to establish a new grooming routine with your beloved pup, we're here to help. Browse through our full range of dog grooming products to find the right products to assist you in your dog bathing routine.