Raw vs. Wet vs. Dry: What's Best For My Pup?
As a dog owner, we all know how important food is to our pup. Not only to their health but also their happiness. Ensuring your dog is given a nutritious diet is essential to them leading an enriched and  healthy lifestyle. However, when it comes to weighing up the benefits of each type of dog food, it can be daunting deciding which is best for your pup - raw food, wet food or dry food - which will you choose?
To save you time and stress, our pet experts are here to explore the differences between raw dog food, dry dog food and wet dog food  to ensure you're making the most informed decision for your pooch. Delving into the pros and cons of each type of food and outlining the variety of dog food available to buy here at Direct4Pet, keep reading to discover what diet is best for your pup.
What is the healthiest food to feed your dog? 
Research has shown that feeding dogs a diet of natural, whole ingredients such as meats, vegetables and fruits can help to improve heart health, increase energy levels, improve eyesight, promote digestion, protect their teeth and make their coat shiny. Therefore the healthiest food to feed your dog should provide them with a combination of these ingredients, all of which can be found in raw, wet and dry dog food. 
The healthiest food to feed your dog is all dependent on the individual dog. Although most dogs are able to eat the same foods, some may suffer from specific allergies, digestive issues or other health problems that means there is no one size fits all option. Whether you choose raw food, dry kibble, wet dog food or a combination of both, the healthiest thing you can feed your dog should include natural ingredients that are high in protein, have a good amount of nutritious fats and are packed with essential nutrients. Below, we've outlined a couple of our best selling healthy dog foods available at Direct4Pet.
Wet Dog Food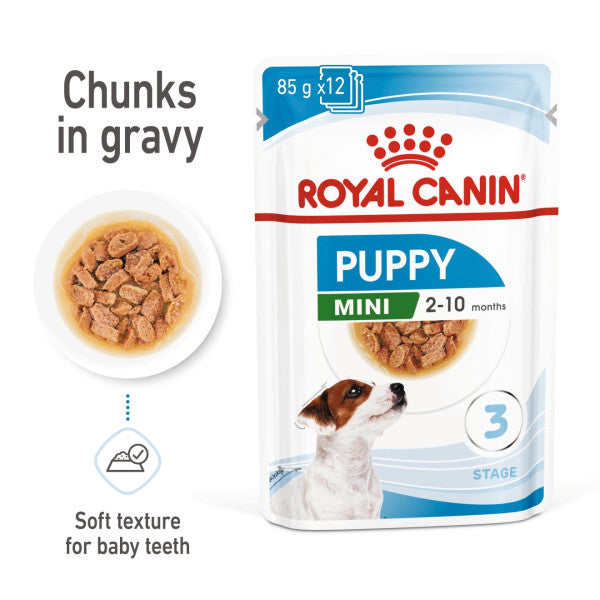 Royal Canin Nutritional Wet Dog Food For Mini Puppy £13.79 and Natures Menu Multipack Dog Food Pouches £18.39 
Royal Canin is one of the most popular brands of dog food as they offer a wide variety of foods both wet and dry, specially formulated for a range of ages, breeds and health requirements. From hypoallergenic to digestion, weight reduction and senior pups, Royal Canin is suitable for all dogs and even offers dog food tailored to the specific needs of each breed of dog. This particular Royal Canin wet dog food is tailored to support small breed puppies during the early stages of life, ensuring they are getting the right nutrients and enough calories for healthy growth and development. 
This formula in particular is suitable from 2-10 months old and contains vitamin C and E to support your puppies immune system and essential Omega 3 fatty acids to support brain health and development. Combining beneficial prebiotics and digestible proteins, this Royal Canin puppy food offers a highly-palatable meat and gravy flavour that your dog will love and will help towards creating a healthy pup.
Natures Menu is another best selling dog food brand available at Direct4Pet that offers a wide selection of natural meals for dogs. Cooked using healthy, real food ingredients, Natures Menu wet dog food ensures your dog is getting a tasty, complete and nutritionally balanced meal. Suitable for dogs over the age of 20 weeks, this wet food is veterinary approved and uses only human grade meats that are gently cooked to ensure all the goodness stays locked in each pouch. Available in a variety of flavours including chicken, turkey, beef and duck, the Natures Menu wet food pouches may differ in appearance due to it being a fully natural product.
Dry Dog Food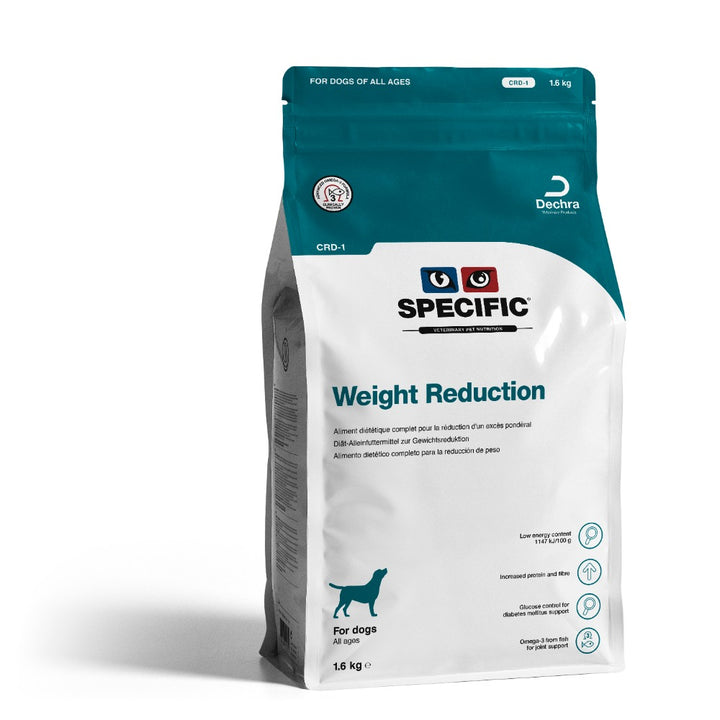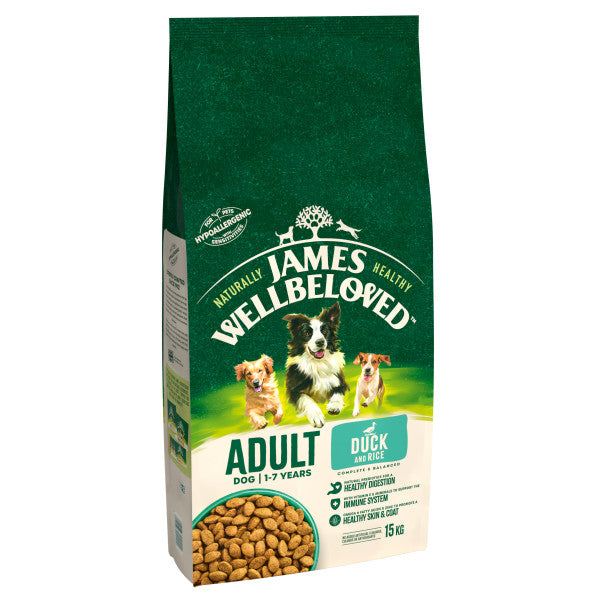 Dechra Specific CRD-1 Weight Reduction Dry Dog Food £16.39 and James Wellbeloved Duck & Rice Adult Dog Food £65.99 
If you're looking to give your dog a dry food option, Dechra SPECIFIC™ is one of the best brands to ensure your dog is getting the right amount of essential ingredients in every meal. Available in a wide variety of formulas, targeting a range of health issues such as joint support, weight reduction and digestive health, Dechra Specific is a quality food that has won many taste and performance tests. 
This specific weight reduction dog food is low in fat and calories but high in fibre and protein so  your dog can eat a large tasty amount of food that satisfies their appetite, while still helping them to lose weight. The high amount of protein in this food helps to maintain your dog's muscle mass and increase weight loss. With high levels of Omega-3 to maintain a healthy coat, skin and joints and added L carnitine, a fat burning amino acid, this dry dog food is perfect for maintaining a healthy weight.
James Wellbeloved also offers an extensive range of nutritious and delicious dry dog food that contains natural ingredients including all of the essential animal proteins, vitamins and minerals your dog needs. This dried duck flavoured kibble in particular is specially formulated with yucca extract, prebiotics, natural chicory inulin and omega acids to ensure healthy digestion, a happy gut and a glossy coat. Perfect for those dogs that like a food with satisfying crunch, this dry dog food kibble is hypoallergenic, contains no artificial ingredients and has a balanced amount of functional fibres to encourage a settled digestive system.
Raw Dog Food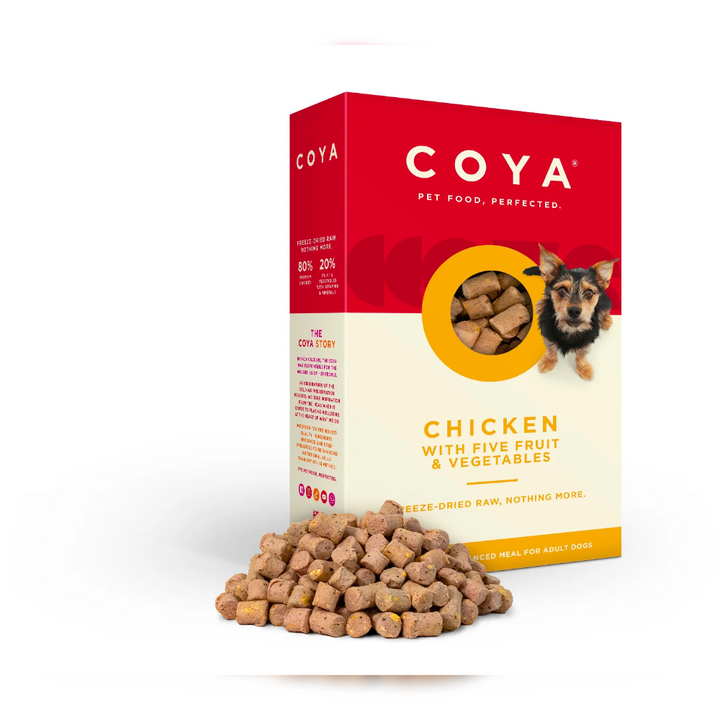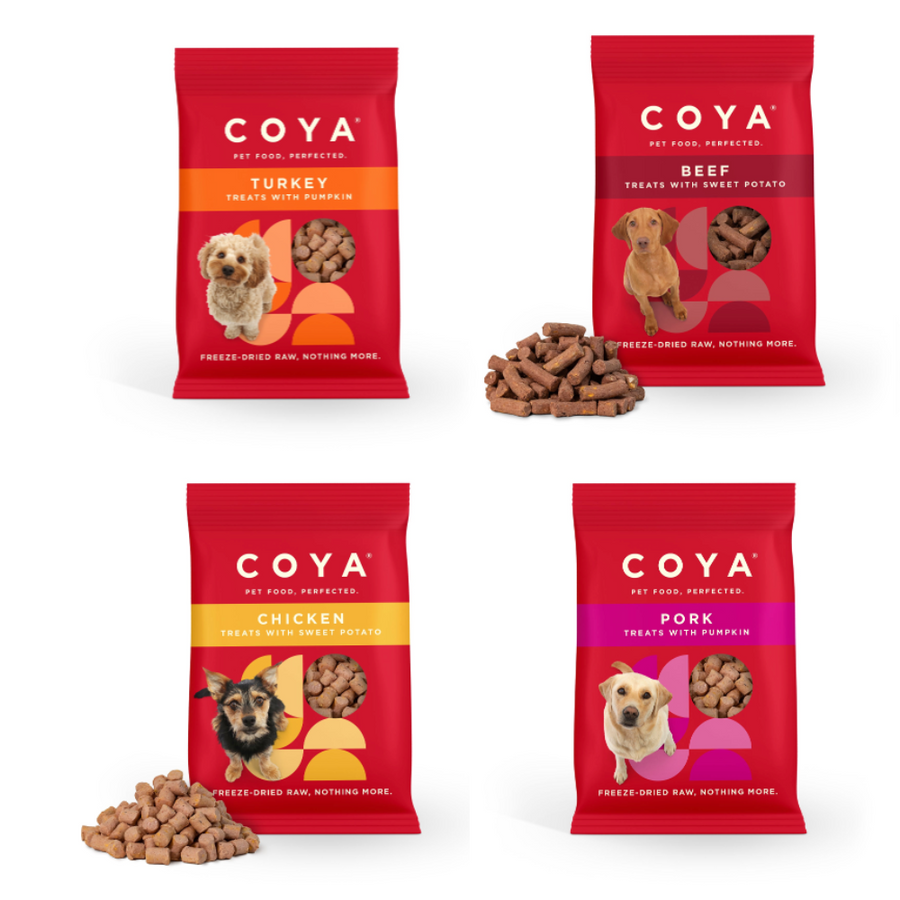 Coya Freeze-Dried Raw Adult Dog Food £29.99 and Coya Freeze Dried Raw Dog Treats £5.09 
Raw dog food doesn't always have to mean chunks of raw meat, it can also include freeze-dried raw foods that still maintain the nutritional value of raw meats just in a more convenient package. 
Coya is one of the most popular dog food brands that offer a range of raw dog food flavours that provide your dog with optimal nutrition in a tasty package. Rich in balanced meats and organic fruits and vegetables, this freeze-dried raw food is minimally processed in order to retain all the health benefits possible for your pup. Featuring no additives, preservatives or fillers, this raw dog food is delicious, healthy and comes in a long-lasting, convenient format that is easy to store.
Coya also has a range of raw dog food treats that are also freeze-dried to lock in the goodness of their premium meat cuts, ensuring every bite is delicious. Offering maximum flavour and nutrition, these raw dog treats are hypoallergenic and come in a variety of tasty meat flavours that are guaranteed to satisfy your dog with each reward.
What is raw dog food?
After a rise in popularity in recent years over claims  this diet satisfies your dog's natural hunting behaviours, raw dog food refers to anything that dogs may have eaten in the wild before they became domesticated animals. The type of food a raw diet usually consists of is,  raw muscle meat, organs, raw eggs, bones and dog-safe fruit, vegetables, and yoghurt. Raw dog food can be prepared fresh at home by owners or bought dehydrated as a more accessible choice, to save owners time sourcing and preparing the raw foods correctly. 
The raw dog food diet claims to provide a number of health benefits for your dog such as, better digestion, more energy, shiny coat and skin and improved dental health. Although there are many pet owners who swear by the raw dog food diet, there have been limited studies conducted on this way of feeding your dog, none of which have been proven to be 100% effective. Therefore we recommend to proceed with caution and consult your veterinarian before switching your dog to a raw food diet.
Is raw or wet food better for dogs? 
There is no right or wrong way to feed your dog as there are benefits to both raw food and wet food diets, so the one you choose is up to you and your pup. As discussed above, there are claims that a raw dog food diet can have many benefits in terms of nutritional value, mental stimulation and physical wellbeing of your dog, however, all of these benefits can also be found in wet dog food. 
Wet dog food is great for dogs who are picky eaters as it's more palatable, smells better (to your dog), contains a high amount of protein and fat and is often easier to eat, making it a great choice for senior dogs or those with dental issues. It's low in carbohydrates, full of essential proteins and has a high water content to help your dog maintain hydration.
What are the disadvantages of wet dog food? 
Due to the texture of wet dog food, it's likely to stick to your dog's teeth and therefore has the potential to cause plaque buildup or dental issues. However, if proper dog dental care is regularly used along with dental treats, this should not be an issue. In addition to this, the texture of wet food can lead to more unwanted mess both in your home and on your dog's fur around their mouth, as well as having a more pungent smell compared to dry food. In terms of cost, wet food is generally  more expensive than dry but not as expensive as raw dog food.
Should I feed my dog both wet and dry food? 
Yes, many owners choose to feed their dogs both wet and dry dog food as a way to lower the overall cost of feeding whilst still maintaining a healthy and satisfying diet. Both wet and dry dog foods each have their own set of benefits. When combined, your dog gets the best of both worlds with taste and texture, as well as all of the nutritional benefits.
Dry dog food is largely the most popular choice for many pet owners, after all, it is the most financially viable option, is easy to store, lasts a long time, has many dental benefits and is great for dog enrichment. As discussed above, wet dog food is high in protein and fats, provides a variety of textures and has a strong taste and smells your dog's love.
If you choose to combine both dry and wet food then it's important to still stick to the recommended portion size for your dog each day, ensuring you give the ratios of each food type. For example, if your dog usually gets given 1 whole tin of wet dog food, only give 50% of that and mix it with 50% of  dry food, this helps to ensure that you are giving your dog a balanced diet. However, these ratios are dependent on each dog's preferences. If your dog prefers wet food over dry, increase the ratio of wet food to 70% and decrease the amount of dry food to 30% and so on.
Can you feed your dog raw and dry dog food?
Yes, combining raw dog food with dry kibble is completely safe for your dog as they have digestive systems that are well-equipped to handle both types of food simultaneously. Despite popular beliefs, your dog's digestive system cannot register the difference between raw food and dry kibble, therefore, it is perfectly acceptable to feed them both. Combining these two types of food can provide your dog with many health benefits including, boosting their immune system, reducing allergies, improving digestion and also providing enrichment.
It is important to note that if your dog is new to raw food, you must introduce it slowly in order to prevent any unwanted gastrointestinal issues. Gradually add small amounts of raw food as a topper on your dog's kibble to see if they like it and allow their digestive system to adjust to the new proteins and fats. Overtime you can begin to increase the amount of raw food until you find the perfect ratio of dry dog food and raw food for your pup.
Give your dog the best diet possible with the help of Direct4Pet
With all of the information on the benefits of each type of dog food, it's time to trial which ones are best for your dog. Remember to listen to your dog's body, see how they react to each type of food and choose accordingly. Browse through our full collection of
dog food
and
dog treats
here at Direct4Pet and find the perfect fit for your pup.