Christmas Gift Guide For Your Pets 2024
Christmas is a time for showing appreciation to the ones you love through quality time and thoughtful gifts, and your pets are no exception. This season, it's time to get your four-legged friends involved in the festive fun and treat them to a gift they will love. Whether you're looking for a new dog toy to keep your pup entertained over the party season, a cosy bed to keep your cat warm or a tasty treat for your horse, we've got you covered.
No matter what pet you're buying for this Christmas, you'll find the perfect gift here at Direct4Pet. Offering a variety of festive-themed gifts among our best-selling pet products, keep reading to discover the best Christmas gifts to give your pet this year.
What do pets want for Christmas?
Although pets aren't aware of what Christmas is all about, buying them a gift is a nice way to make your pets feel included on a day that is focused on spending time with the ones you love. When it comes to thinking about what your pets might want for Christmas, there are many options for exciting gifts to buy depending on what animal you have and the things they enjoy most. 
It's important to remember that Christmas Day can be particularly stressful for a lot of pets and a good way to keep them distracted and feeling calm is to give them a gift they will enjoy. It goes without saying that buying your pets their favourite treats is a guaranteed way to make their day, combine that with gifting them a new toy or a new blanket to snuggle up in and you're set to make it their best Christmas ever.
What to buy cats for Christmas? 
As all cat owners know, our feline friends can become particularly anxious in high-energy situations, especially on Christmas Day when everyone's emotions run high due to stress and excitement. Therefore, ensuring you get your cat a gift that will keep them entertained throughout the day is a great way to help reduce their anxiety and ensure they enjoy the day as part of the family.
KONG Holiday Teaser Loopz £7.39 and KONG Holiday Kickeroo Character Assorted £7.09 
An interactive toy is the perfect gift for playful cats and kittens as it not only keeps your feline entertained but provides a chance for you to bond with your pet. The KONG Holiday Teaser Loopz is a great Christmas gift for your cat as it fulfils their natural hunt-and-capture instincts and can offer hours of entertainment. Featuring soft yarn rings, a shiny ball and fluttery feathers, this teaser wand is an exciting visual target for your cat to pounce and scratch during playtime. This Holiday Teaser also contains catnip in the shiny ball element which entices cats to play for longer and also has a natural calming effect which is perfect for keeping anxiety at bay over the holiday season.
For cats that prefer to play with plush toys they can kick around with their paws, the KONG Holiday Kickeroo Characters are ideal. These Christmas-themed characters feature long, fluffy tails that promote hours of fun and satisfy your cat's natural hunting instincts. Made from a soft material perfect for snuggling, this toy also contains a crinkling sound that keeps kitties interested and KONG Premium North American Catnip that encourages engagement and can help ease any anxiety.
Bamboo Radiator Cat Bed £24.99 and Rosewood Natural Cat Scratchers £34.99 
Another great gift to treat your cat to this Christmas is a comfortable place to relax away from the chaos of Christmas. Cats love having a place where they can hide away, especially in times of anxiety or stress, and around the busy festive period they will be looking for a cosy place to stay away from the overwhelming festive fun. Therefore this Rosewood Bamboo Radiator Cat Bed is a great option as it offers the comfort of a bed, the protection of a hidden-away spot and the cosy warmth of the radiator which is ideal for the colder winter months.
For cats that love to scratch, a great way to keep them from getting their claws into furniture is to get them a scratching post as a Christmas gift. The Rosewood Natural Cat Scratcher combines the cosy element of a cat bed with the entertainment of a scratching post, alongside  hammock-style bed underneath.This plush, cosy scratching tower offers the perfect place for your cat to sit and relax during the festivities, simply add their favourite toy or catnip to this scratcher and your pet will be content for hours.

For more presents your cat will love, browse through our full range of cat toys and treats to fill up your pet's stocking this Christmas.
What is the best Christmas gift for a dog?
If you're looking to spoil your furry friend this Christmas then there's no better way than to get them in the festive spirit with our wide selection of Christmas gifts for dogs which includes dog treat selection boxes, dog toys, cosy blankets and more. Whether you're planning on surprising a loved one with a new puppy this Christmas or are getting your beloved family dog involved in the festivities, we've got you covered with a wide range of dog toys for all ages.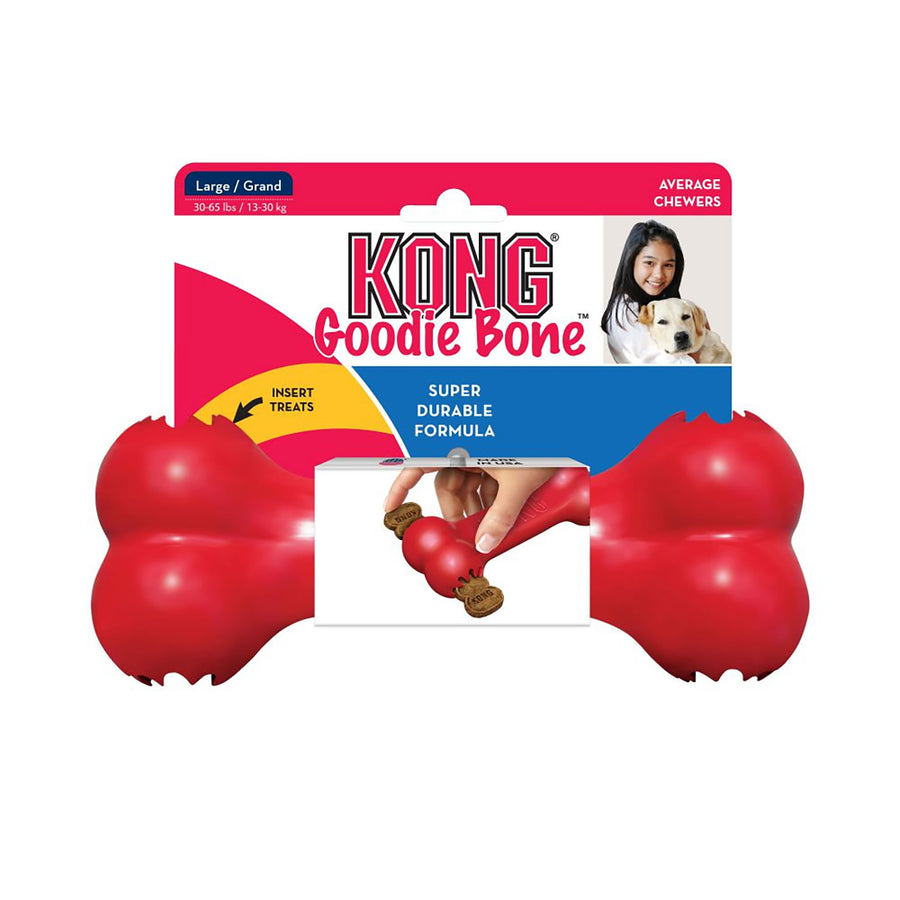 Pedigree Christmas Stocking Dog Treats £7.59 and KONG Goodie Bone £8.09
We all know that Christmas is the time to indulge in your favourite foods and treating your dog is no different. Share the love with your furry pal this Christmas with this Pedigree Christmas Stocking full of the very best Pedigree dog treats including, Dentastix, Rodeo chews, Jumbobones and Pedigree Tasty Mini treats. Made with your pet in mind, this treat selection box is sure to keep your dog busy throughout the festive period with delicious low-fat doggy treats full of succulent flavour that not only taste great but also help support your canine's dental health.
Another great Christmas gift for your dog that is sure to keep them occupied and satisfied is a treat dispensing toy from KONG. Featuring a wide range of durable, fun and challenging toys, KONG is one of the most popular dog toy brands that encourage mentally stimulating play whilst incorporating their favourite treats. The KONG Goodie Bone™ toy, in particular, engages dogs that love to chew, made from KONG's unique all-natural red rubber, this bone features the patented Goodie Grippers ™ that turn this entertaining toy into an exciting treat-dispensing challenge that can be stuffed with your dog's favourite food or even KONG's own Easy Treat™ filler which is available in a variety of dog-friendly flavours.
KONG Holiday Occasions Balls £11.29 and GoodBoy Christmas Toys for Dogs - Hug Tug Santa £7.39
Surprising your dog with a new toy is a sure way to keep them happy and entertained throughout the festive period. When deciding on the perfect toy for your dog, it's important to consider their usual play habits and what kind of toys they typically gravitate towards. If your dog loves playing fetch with a ball, why not treat them to this Kong Festive Ball set that includes a variety of different textured balls? Featuring a double-layered TPR ball with a squeaker, a sports ball that mimics the feel of a tennis ball, an action ball and a durable vinyl ball, this Kong gift set offers everything your fetch-loving dog could dream of this Christmas. 

For dogs that love to play tug-of-war, this GoodBody Hug Tug Santa is perfect. Featuring durable rope arms and legs, a crinkle beard and a plush body, this festive-themed dog toy will provide hours of fun for your dog by providing plenty of opportunities to play tug-of-war with the whole family. Alternatively, if the festive-themed gifts aren't for you, browse through our full range of dog toys available at Direct4Pet, from durable rope toys to unique fetching toys, calming toys and more, you'll be able to find the perfect one to gift your dog this Christmas.
Scruffs Snuggle Blanket £15.99  and Scruffs Luxury Kensington Dog Pet Box Bed £89.99 
There's nothing better than snuggling up on the sofa with your pup at Christmas, so what better way to do so than with a soft and cosy dog blanket? This Scruffs Snuggle Blanket is made for cuddling up with your dog in the winter weather or adding to their bed for extra comfort and protection from the cold. Featuring a soft plush lining on one side and faux suede on the other, this blanket offers versatility for both warmer or colder temperatures to keep your dog cosy all year round.
The average dog sleeps for between 12 to 14 hours per day, therefore they should be spending that time in a good quality, comfortable dog bed that will support them whilst they rest. The Scruffs® Kensington Collection provides the ultimate support for your dog, offering a variety of stylish and cosy dog beds that would make a great Christmas gift for your dog. Made from an eco-suede outer fabric, with a deep-filled 100% polyester centre, this bed ensures your pet remains as comfortable as can be throughout the day. With a reversible centre cushion, deep side walls, and a high-sided rear, this bed offers a snug place for your dog to rest their head throughout the festive season and the months to follow. 

Browse through our full collection of dog beds and accessories to find more cosy options for your pup.
Christmas Gifts for Horses
Even though they're not household pets, your horses still deserve a Christmas gift to spread some cheer during the festive season. Whether you're off on a Christmas day ride or on your way to refresh the stables for the festive season, arriving with a tasty treat is sure to make your horse happy.
Gold Label Christmas Equine Stocking £4.89 and Little Likit Candy Cane Flavour Horse Treat £46.99 
Just like the rest of the family, your horse also deserves a stocking to tuck into on Christmas day. Gold Label offers a great Christmas Equine Stocking that includes a variety of apple, mint and herb-flavoured treats, suitable for both horses and ponies to enjoy. These bite-sized treats are guaranteed to brighten any horse's day during the winter season and bring festive cheer to the stables.
Similarly, another great festive treat to gift your horse this Christmas is the Little Likit Candy Cane Flavour Horse Treats. Designed to work in conjunction with the Likit Boredom Buster and Tongue Twister, this Candy Cane flavoured treat helps keep your horse entertained whilst also promising them a tasty treat for the festive season. Alternatively, the treats can also be given as a hand-fed reward if you're looking to spend some quality time with your equine companion. 
Take a look at our full collection of equine and livestock products at Direct4Pet to find more exciting Christmas gifts for your larger pets that live outside of your household.
Let the festive season begin!
Now that you've got inspiration on what gift options are available for your pet this season, it's time to begin your festive shopping. Browse through our full
Christmas collection
of festive-themed pet products to find the best Christmas gifts that your furry friends are guaranteed to love. Alternatively, if you're looking for non-seasonal gift ideas, take a look at our collection of
dog
,
cat,
horse
,
bird
and
small animal
products for further inspiration on items your pet will love.